– An introduction to our firm
Yew Huoi, How & Associates ("YHA") is an outstanding local Malaysian law firm dedicated to provide the best legal service to each of its discerning client. We are thoroughly versed in our core sectors of maritime, corporate and company related matters, commercial and insurance. We are trusted by our clients to resolve their most complex and complicated legal issues in the most time and cost efficient manner. Our firm is dedicated to work with our client to build our client's business to the next level as we are here to serve our client's legal needs for the long haul. We treasure and enjoy our long-term relationship with our client. We offer forward-thinking, long-term and viable legal resolutions, not short-sighted approaches.
Our dedication for excellence has earned the trust of our clients.
We are trusted by our
client to resolve their
most complex and
complicated legal
conundrum.
YHA specializes in the following areas. Our general litigation lawyers also cover all areas of civil and criminal litigation.
We are trusted by our client to resolve their most complex and complicated legal conundrum.
YHA Law Firm's Lawyer were very patient and professional with their clients. They're also very willing to help when the clients faced any problem after the transaction. Highly recommended.
The team at YHA has been instrumental in helping us put in place our documentation process as we are scaling up our business. In the process, they have been very patient and ever ready in giving us sound legal advises. They are also forward thinking in making sure that we are aware of any implications that may occur.

In a nutshell, they've been very helpful and accomodative to our requests. We highly recommend their services to our business partners, associates, friends and family
YHA Firm's lawyers not only willing to take over my case with less than 3 days to trial but managed to lighten the air within minutes with both the opposition and the judges with their friendly, fast thinking and great sense of humor.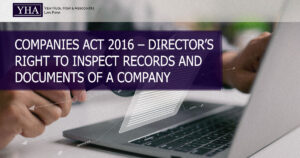 A, a director and shareholder of the company, was denied access to inspect the company's records. Although not involved in daily operations, A wants to determine the value of his shares for a separate lawsuit.
Can he file an application for inspection and appoint lawyers and auditors to do it on his behalf?
Schedule your appointment with us !
Do fill up the form and we will be in touch with you shortly.